Project Description
The pavement on Garfield Drive is up to 50 years old and in visibly poor condition. We are pleased to announce the City will be repaving a 1.5 mile stretch of Garfield Drive between East Washington Street and Cross Creek Street in Spring/Summer 2023, following completion of a Water Services Replacement Project.
With any paving project, the City looks for opportunities to improve safety and accessibility for all road users. Improvements that will be incorporated in this project include:
New or improved curb ramps and crosswalks
Parking prohibition near intersections and crosswalks to improve visibility
Roadway striping or signage elements that slow traffic, increase road users' awareness, and make roadway operations more intuitive
Join the City for a virtual community meeting (date TBD) to learn more about the project and preview the construction schedule and impacts. The City will send postcards to all addresses within 1000 feet and email those who have subscribed to project updates using the form below when meeting details are available.
Sign-Up for Project Updates
Timeline
Winter 2022-23: Design
Spring 2023: Water Services Project Construction
Summer 2023: Pavement Restoration Project Construction
Funding
Pavement rehabilitation projects are funded through a combination of Street Maintenance Funds, Road Maintenance & Rehabilitation Account, and Measure U Sales Tax bonds. Water services replacement projects are funded with Water Enterprise Funds.
BID Details
The construction plans and specifications were prepared by engineering staff and a Notice Inviting Bids was advertised on January 27, 2023. Five bids were received and opened on February 16, 2023. On March 20, 2023, City Council will consider a Resolution Authorizing Award of Contract to Ghilotti Bros., Inc. for $2,936,976.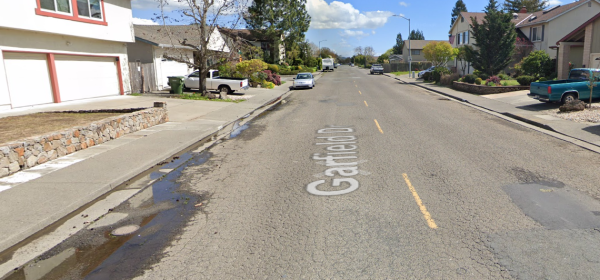 Project Location
Garfield Drive from East Washington Street to Cross Creek Street