The Rainier Avenue demonstration project is up and running from North McDowell Boulevard to Maria Drive as of August 2022! Most of the content of this webpage was developed prior to the demonstration project's installation, and some minor changes have been made to the original design since then. Further changes may be made to the final design based on community feedback. Tell us what you think of the demonstration project using the below form.
We plan to keep this demonstration project installed for at least 3 months (November 1; possibly longer) to allow time for education, evaluation, and refinement.  We welcome feedback and comments during this time, and we will be observing and collecting traffic data. All comments are welcome on a continuous basis via this portal, and all feedback will be considered as part of our final analysis and assessment.
FEEDBACK FORM
Click here to complete our feedback form to provide your input on this project.
Project Description
This project is made possible by funding from Measure U - a community-supported revenue measure. 
Creating safer streets is top priority for us here at the City. Since September 2021, we have been seeking community input on ways to make Rainier safer. The current road sees approximately 6,000 cars per day across four travel lanes in a 35mph zone. From January 1, 2017 to February 8, 2021, there have been 15 reported collisions, 9 of which resulted in injuries, and were caused by excessive speeds, automobile right-of-way violations, and improper turning.
We will be moving forward with a trial demonstration project on Rainier which will include temporary elements like paint and rubber barriers (see image on right). Demonstration projects such as this one give the community a chance to experience a proposed change, then provide feedback. The City can then use this feedback to help determine if it makes sense to move forward with a more permanent solution. The demonstration will be up for a minimum of 3 months at which time we will review the feedback and determine how the changes are working for the neighborhood.
Rainier Avenue will also be having pavement restoration work performed. Though the current pavement condition may look good, the planned crack and slurry seal restoration will greatly extend the life of the pavement in a cost efficient manner. An added benefit to doing this pavement restoration work is the opportunity to install pavement markings that better support the safety of all users, especially pedestrians and bicyclists (referred to as Active Transportation). Given there are three schools in the immediate area, these added safety markers are important for the community. We will review and the community's feedback regarding the demonstration project prior to beginning the pavement restoration work.
COMMUNITY INPUT
Please share your feedback on the trial demonstration project via the form at the top of this page.
We have been seeking community input since September of 2021 and are planning to keep the survey up until November 1, 2022. Outreach has included:
Mailers
Virtual Community Workshop
Website form
Neighborhood Meeting
Below are links to notes and videos of our Virtual Community Workshop
CLICK HERE to view notes recapping the workshop and input from the public.
CLICK HERE to view a recording of the workshop.
CLICK HERE to view the presentation shared during the workshop.
CLICK HERE to view the responses from the webform.
Thank you to all who took the time to engage in this crucial conversation with us. Rainier is an important road in Petaluma and our goal is to make it the best it can be for all users and residents.
Next Steps
We are moving forward with updates to Rainier Avenue using a "demonstration" model. This means, we will implement our proposed changes using temporary elements like paint and rubber barriers.
This will give the community a chance to experience our proposed changes, then provide feedback. We can then use this feedback to inform the final design. The demonstration will be up for a minimum of 3 months at which time we will review the feedback and determine how the changes are working for the neighborhood.
Project Location
The project will take place on Rainier from North McDowell Blvd. to Sonoma Mountain Parkway.
Traffic Impacts & Benefits
There will be minor delays during construction. When completed, the project will help keep the road protected and ensure more extensive reconstruction will not be required in the future and will offer improved safety conditions for motorists, bicyclists, pedestrians and those with limited mobility.
Timeline/Project Status
Tentative schedule (dates subject to change):
August 2022: Demonstration Project installed
December 1, 2022: Survey closes.
December 7, 2022: Project team presents survey results and traffic data to Pedestrian & Bicycle Advisory Committee.
January-February 2023 (Date TBD): Project team presents survey results and traffic data to City Council.
Summer 2023 (Dates TBD): Final roadway configuration to be installed following paving project.
Council Goals and Priorities
This project works to meet the following City goals:
A City That Works for Everyone
Provide City infrastructure that is safe, sustainable, multi-use, efficient, inspiring civic pride.

Establish and improve paths, as useful transportation options, and make walking and biking easy, fun, and safe.

Better integrate multi-modal transportation with street designs
A Safe Community that Thrives
Maintain and enhance public safety and prepare for emergencies and disasters, through crime and fire prevention, and traffic safety.

Implement City Vision Zero plan with a focus on pedestrian and cyclist safety with improvements to uncontrolled crosswalks, curb ramps, sidewalk, and bicycle infrastructure.

Enhance pavement management program to improve the safety and serviceability of our roads to protect drivers, cyclists, and pedestrians.
This project will help meet our Climate Action goals by allowing roadway users to feel more comfortable and safer walking and riding bikes. Also, this project helps to implement safer routes to nearby schools.
Funding
Funding  is provided by SB-1 and Measure U, a community-supported revenue measure. 
Rainier FAQ's
In the course of community outreach, there were some common questions and concerns that were raised. The following are those questions and our responses to them. If you have additional questions or concerns, please contact Ken Eichstaedt, Senior Traffic Engineer and Project Manager for this project.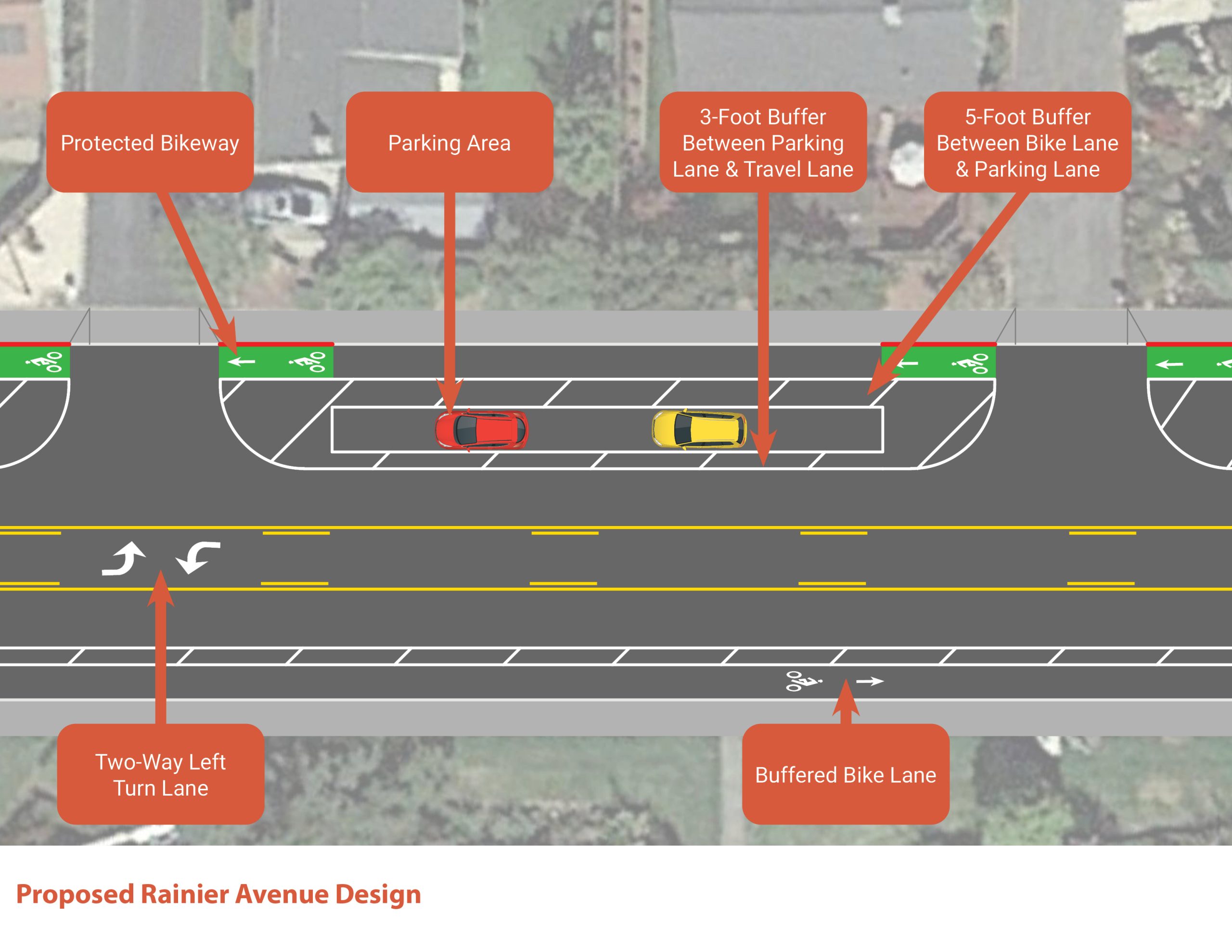 Rainier Avenue – Proposed Changes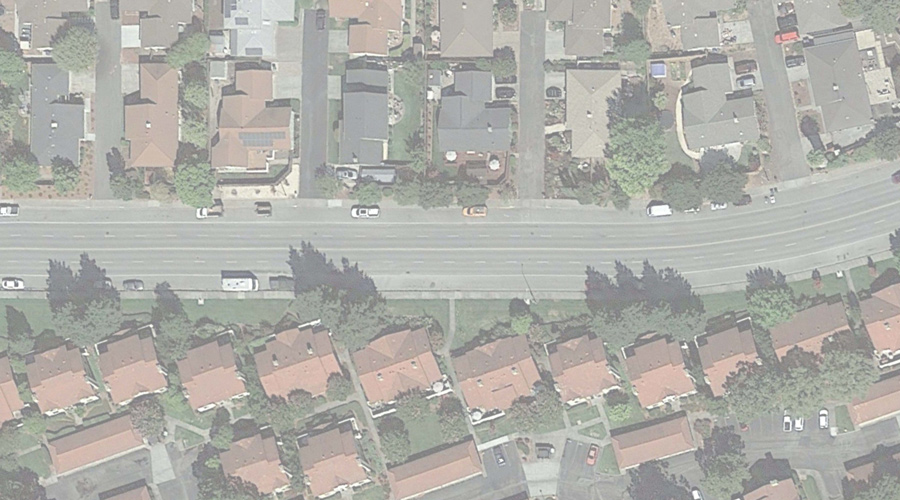 Rainier Avenue – Current