Project Description
As we work to achieve the City of Petaluma's Climate Action goals, we are constructing parking lot canopy photovoltaic solar arrays at various locations around town. Solar arrays like these derive clean, pure energy from the sun, help combat greenhouse gas emissions, and work to reduce our collective dependence on fossil fuels.
Initially, this project will provide oversight of the construction of solar arrays at the Community Center, Petaluma Police Department, Swim Center, and Petaluma Community Sports Fields. These solar arrays are projected to save the City $3.9 million in energy costs over 20 years, as well as reduce 800 tons of carbon dioxide per year, which is equivalent to:
180 cars removed from the road
electricity use from 100 homes
carbon sequestered from 950 acres of forest
The Ellis Creek Water Recycling Facility array is still in development and will provide renewable energy, but the total energy production and utility bill savings are being calculated.
Project Manager:
Project Location:
Petaluma Community Center, Ellis Creek Water Recycling Facility, Petaluma Community Sports Fields, Police Department, and Swim Center
Traffic Impacts & Benefits:
No traffic impacts anticipated. During construction there may be some parking spaces closed off.
Project Status/Timeline
The parking lot solar canopies are planned for the Community Center, Swim Center, Petaluma Community Sports Fields, and Police Department, with three of the four locations currently in design. The final location of the Swim Center array is still in discussion.
The Ellis Creek Water Recycling Facility has received qualification statements and pricing proposals from interested solar developers to explore the size and costs of a floating solar array on the surface of one retention pond.
Funding
These projects are fully funded by Power Purchase Agreements with no capital expenditure from the City.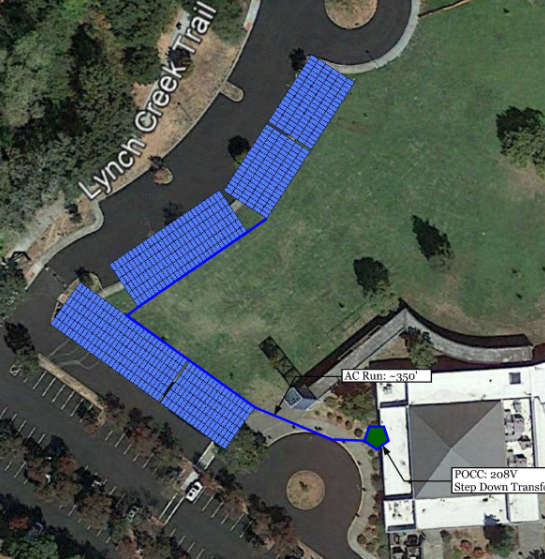 (Schematic Layout of Community Center Solar Arrays)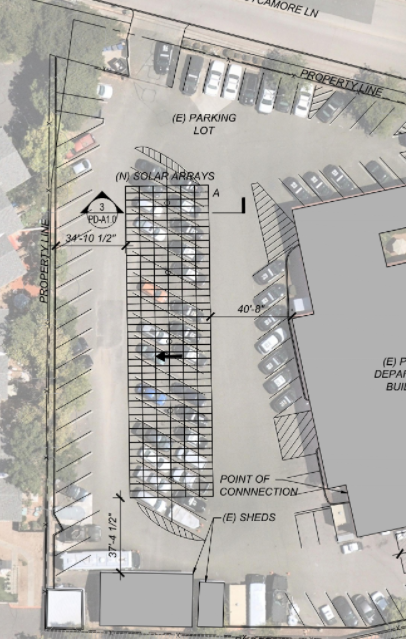 (Schematic Layout of Police Department solar array)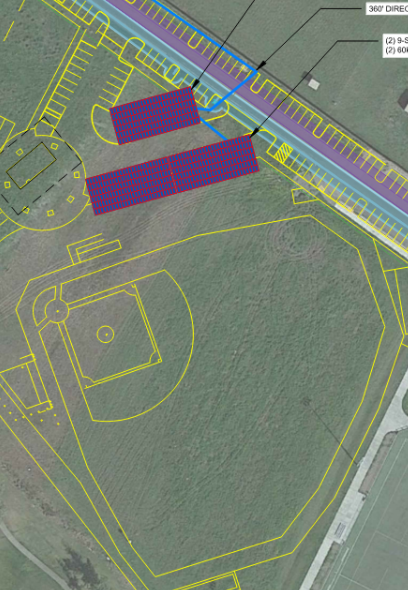 (Schematic Layout of solar array at Petaluma Community Sports Fields)