Project Description
D Street serves an important role as a gateway between the countryside and Petaluma. The historic residential street is used by up to 9,500 vehicles per day and is traveled along and across by many people on foot and bike, including children and families accessing nearby parks and schools. Unfortunately, D Street was recently identified as part of Sonoma County's High Injury Network, meaning traffic collisions on D Street occur more frequently and with greater injury severity relative to most Sonoma County roads.
The City is committed to creating safer streets and doing so in a way that best suits the needs of our community. We are seeking input on proposed traffic calming, pedestrian, and bicycle improvements that can be installed quickly using low-cost, flexible materials. Quick-build projects (also referred to as "pilot" or "demonstration" projects) give the community a chance to experience proposed changes, then provide feedback before we move forward with long-lasting improvements.
Our goals with this project are twofold: 1) implement traffic calming fixes that will deliver immediate safety benefits, and 2) seek input on and test street design elements to inform a future road reconstruction project that will take place following sewer and water main replacement projects in 2024. For more information about future construction activities on D Street, please see "Future D Street Projects" below.
Community Engagement
Community Workshop #1 (October 18, 2022)
The City hosted a virtual community workshop to introduce the project and hear community concerns and ideas. The meeting was attended by 70 people.
Presentation to Pedestrian & Bicycle Advisory Committee (November 2, 2022)
The City provided a similar presentation to the Pedestrian & Bicycle Advisory Committee, incorporating feedback received at the October 18 Community Workshop.
Click HERE to view the meeting materials and recording (Item 8A)
Project Survey (October 21 - November 10, 2022)
The City posted an online survey asking for feedback on priorities and potential design elements/roadway configurations. 138 people responded to the survey.
Click HERE to view a summary of survey results
Upcoming Opportunities to Provide Feedback
February 2022 (Date TBD): Community Workshop #2
Sign-Up for Project Updates
Future D Street Projects
Sewer and Water Main Replacements
Location: Petaluma Boulevard South to Sunnyslope Avenue/El Rose Drive
Estimated Construction: Summer-Fall 2024
Description: The City will replace the sewer and water mains within D Street and on connecting streets, both of which are aging and in need of capacity enhancements. Staff has prioritized areas of the City in need of water and sewer main replacements to maximize efficiency and minimize disruption and construction costs.
Project Manager: Dan Herrera
Road Reconstruction and Complete Streets Improvements
Location: Petaluma Boulevard South to City Limits
Estimated Construction: Summer-Fall 2025 (pending funding)
Description: Following the sewer and water main replacements, the City will reconstruct D Street. Roadway reconstruction will include a new roadway surface, ADA curb ramps, traffic signal upgrades, and traffic calming, bicycle, and pedestrian improvements. The roadway design will be informed by feedback received and data collected during the quick-build project.
Project Manager: Ken Eichstaedt
Scott Ranch Developer-Funded Improvements
Location: Sunnyslope Avenue/El Rose Drive to City Limits
Estimated Construction: TBD
Description: The proposed Scott Ranch development project would provide several roadway improvements, including the installation of a new roundabout at the Windsor Drive intersection, sidewalks, and Class II bike lanes. If the project is approved, the City will coordinate with the developer's construction schedule to minimize disruption.
Project Webpage: https://cityofpetaluma.org/scott-ranch/
Funding
Funding for the Quick-Build project will come from Traffic Mitigation Impact Fees and Street Maintenance funds.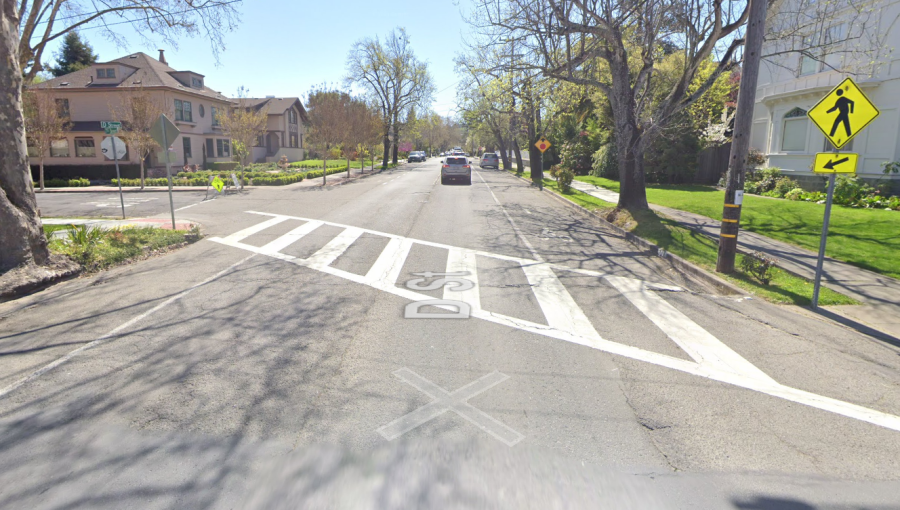 Project Location
Petaluma Boulevard South to City Limits
Timeline/Project Status
Estimated Quick-Build Completion Date: Winter 2022/23
October 18, 2022: Community Workshop #1
November 2, 2022: Presentation to the Pedestrian & Bicycle Advisory Committee
February 2022 (Date TBD): Community Workshop #2
Winter - Spring 2023: Quick-Build Design and Installation
Summer - Fall 2024: Sewer and Water Main Replacement Projects (Petaluma Boulevard South to Sunnyslope Avenue/El Rose Drive)
Summer - Fall 2025 (pending funding): Road Reconstruction Project (Petaluma Boulevard South to City Limits)